Here we are sailing into June (wha?!?), and there are so many amazing books releasing this week that we truly don't know what to do with this abundance. Where does one even start? We feel a bit like Lucy right now!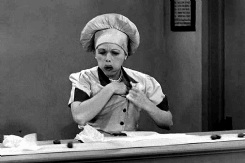 Let us know which book you're snagging first!
Happy Reading,
Jocelyn, Halli, Martina, and Elizabeth
14 Ways to Die
by Vincent Ralph
Paperback
Sourcebooks Fire
Released 6/1/2021
A page-turning thriller for the social media age, perfect for fans of A Good Girl's Guide to Murder and One of Us Is Lying.
Ten years ago Jess lost her mother to the Magpie Man, an infamous serial killer who is still at large and planning to kill again. She's going to use her new platform as the star of a YouTube reality series to catch him. That is, if he doesn't catch her first.
Jess's online show means that everyone is talking about her mother's murder case.
But fame comes with its downsides. The whole world is watching her every move. And it's hard to know who she can trust.
Could the Magpie Man be lurking closer to her than she thought? Is he watching her right now?
Purchase 14 Ways to Die at Amazon
Purchase 14 Ways to Die at IndieBound
View 14 Ways to Die on Goodreads
* * * *
A Chorus Rises : A Song Below Water novel
by Bethany C. Morrow
Hardcover
Tor Teen
Released 6/1/2021
Meet Naema Bradshaw: a beautiful Eloko, once Portland-famous, now infamous, as she navigates a personal and public reckoning where confronting the limits of her privilege will show Naema what her magic really is, and who it makes her.
Teen influencer Naema Bradshaw has it all: she's famous, stylish, gorgeous–and she's an Eloko, a charismatic person gifted with a melody that people adore. Everyone loves her–until she's cast as the villain who exposed a Siren to the whole world.
Dragged by the media, and canceled by her fans, no one understands her side: not her boyfriend, not her friends, not even her fellow Eloko. Villified by those closest to her, Naema heads to the Southwest where she is determined to stage a comeback… to her family, her real self, and the truth about her magic. What she finds is a new community in a flourishing group of online fans who support her.
At first, it feels like it used to–the fandom, the adoration, the community that takes her side–but when her online advocates start targeting other Black girls, Naema will realize that–for Black girls like her–even the privilege of fame has its limits. And only Naema can discover the true purpose of her power, and how to use it.
Purchase A Chorus Rises : A Song Below Water novel at Amazon
Purchase A Chorus Rises : A Song Below Water novel at IndieBound
View A Chorus Rises : A Song Below Water novel on Goodreads
* * * *
A Night Twice as Long
by Andrew Simonet
Hardcover
Farrar, Straus and Giroux (BYR
Released 6/1/2021
What do you call the difference between what you should feel and what you do feel? Life?
The blackout has been going on for three weeks. But Alex feels like she's been living in the dark for a year, ever since her brother, who has autism, was removed from the house, something Alex blames herself for. So when her best friend, Anthony, asks her to trek to another town to figure out the truth about the blackout, Alex says yes.
On a journey that ultimately takes all day and night, Alex's relationships with Anthony, her brother, and herself will transform in ways that change them all forever.
In this honest and gripping young adult novel, Andrew Simonet spins a propulsive tale about what it means to turn on the lights and look at what's real.
Purchase A Night Twice as Long at Amazon
Purchase A Night Twice as Long at IndieBound
View A Night Twice as Long on Goodreads
* * * *
A Sisterhood of Secret Ambitions
by Sheena Boekweg
Hardcover
Feiwel & Friends
Released 6/1/2021
A teen girl, backed by a secret society of powerful women, competes to make an 18-year-old future President fall in love with her in Sheena Boekweg's compelling new YA novel, A Sisterhood of Secret Ambitions.
Behind every powerful man is a trained woman, and behind every trained woman is the Society. It started with tea parties and matchmaking, but is now a countrywide secret. Gossips pass messages in recipes, Spinsters train to fight, and women work together to grant safety to abused women and children. The Society is more than oaths―it is sisterhood and purpose.
In 1926, seventeen-year-old Elsie is dropped off in a new city with four other teenage girls. All of them have trained together since childhood to become the Wife of a powerful man. But when they learn that their next target is earmarked to become President, their mission becomes more than just an assignment; this is a chance at the most powerful position in the Society. A life more influential than they had ever before dared to dream possible. All they have to do is make one man fall in love with them first.
Purchase A Sisterhood of Secret Ambitions at Amazon
Purchase A Sisterhood of Secret Ambitions at IndieBound
View A Sisterhood of Secret Ambitions on Goodreads
* * * *
Ace of Spades
by Faridah Àbíké-Íyímídé
Hardcover
Feiwel & Friends
Released 6/1/2021
Gossip Girl meets Get Out in Ace of Spades, a YA contemporary thriller by debut author Faridah Àbíké-Íyímídé about two students, Devon & Chiamaka, and their struggles against an anonymous bully.
All you need to know is . . . I'm here to divide and conquer. Like all great tyrants do. ―Aces
When two Niveus Private Academy students, Devon Richards and Chiamaka Adebayo, are selected to be part of the elite school's senior class prefects, it looks like their year is off to an amazing start. After all, not only does it look great on college applications, but it officially puts each of them in the running for valedictorian, too.
Shortly after the announcement is made, though, someone who goes by Aces begins using anonymous text messages to reveal secrets about the two of them that turn their lives upside down and threaten every aspect of their carefully planned futures.
As Aces shows no sign of stopping, what seemed like a sick prank quickly turns into a dangerous game, with all the cards stacked against them. Can Devon and Chiamaka stop Aces before things become incredibly deadly?
Purchase Ace of Spades at Amazon
Purchase Ace of Spades at IndieBound
View Ace of Spades on Goodreads
* * * *
An Emotion of Great Delight
by Tahereh Mafi
Hardcover
HarperCollins
Released 6/1/2021
It's 2003, several months since the US officially declared war on Iraq, and the American political world has evolved. Tensions are high, hate crimes are on the rise, FBI agents are infiltrating local mosques, and the Muslim community is harassed and targeted more than ever. Shadi, who wears hijab, keeps her head down.
She's too busy drowning in her own troubles to find the time to deal with bigots.
Shadi is named for joy, but she's haunted by sorrow. Her brother is dead, her father is dying, her mother is falling apart, and her best friend has mysteriously dropped out of her life. And then, of course, there's the small matter of her hear—
It's broken.
Shadi tries to navigate her crumbling world by soldiering through, saying nothing. She devours her own pain, each day retreating farther and farther inside herself until finally, one day, everything changes.
She explodes.
An Emotion of Great Delight is a searing look into the world of a single Muslim family in the wake of 9/11. It's about a child of immigrants forging a blurry identity, falling in love, and finding hope—in the midst of a modern war.
Purchase An Emotion of Great Delight at Amazon
Purchase An Emotion of Great Delight at IndieBound
View An Emotion of Great Delight on Goodreads
* * * *
Better Together
by Christine Riccio
Hardcover
Wednesday Books
Released 6/1/2021
Freaky Friday meets The Parent Trap in New York Times bestselling author Christine Riccio's Better Together, a sparkling and heartfelt story about sisters, second chances, finding romance, and finding yourself.
Jamie's an aspiring standup comic in Los Angeles with a growing case of stage anxiety.
Siri's a stunning ballerina from New Jersey nursing a career-changing injury.
They've both signed up for the same session at an off the grid Re-Discover Yourself Retreat in Colorado. When they run into each other, their worlds turn upside down.
Jamie and Siri are sisters, torn apart at a young age by their parent's volatile divorce. They've grown up living completely separate lives: Jamie with their Dad and Siri with their Mom. Now, reunited after over a decade apart, they hatch a plot to switch places. It's time they get to know and confront each of their estranged parents.
With an accidental assist from some fortuitous magic, Jamie arrives in New Jersey, looking to all the world like Siri, and Siri steps off her flight sporting a Jamie glamour.
The sisters unexpectedly find themselves stuck living in each other's shoes. Soon Siri's crushing on Jamie's best friend Dawn. Jamie's falling for the handsome New Yorker she keeps running into, Zarar. Alongside a parade of hijinks and budding romance, both girls work to navigate their broken family life and the stresses of impending adulthood.
Purchase Better Together at Amazon
Purchase Better Together at IndieBound
View Better Together on Goodreads
* * * *
Continuum
by Chella Man
Paperback
Penguin Workshop
Released 6/1/2021
In Continuum, fine artist, activist, and Titans actor Chella Man uses his own experiences as a deaf, transgender, genderqueer, Jewish person of color to talk about cultivating self-acceptance and acting as one's own representation.
Pocket Change Collective is a series of small books with big ideas from today's leading activists and artists.
"What constructs in your life must you unlearn to support inclusivity and respect for all?" This is a question that artist, actor, and activist Chella Man wrestles with in this powerful and honest essay. A story of coping and resilience, Chella journeys through his experiences as a deaf, transgender, genderqueer, Jewish person of color, and shows us that identity lies on a continuum — a beautiful, messy, and ever-evolving road of exploration.
Purchase Continuum at Amazon
Purchase Continuum at IndieBound
View Continuum on Goodreads
Hardcover
Disney-Hyperion
Released 6/1/2021
MAY THE HAZEL BRING YOU WISDOM AND THE ASPEN GUIDE AND PROTECT YOU…
Samantha Knox put away her childish fantasies of archaeological adventure the day her father didn't return home from the Great War, retreating to the safety of the antique bookshop where she works. But when a mysterious package arrives with a damaged diary inside, Sam's peaceful life is obliterated. Ruthless men intent on reclaiming the diary are after Sam, setting her and her best friend, along with her childhood crush, on a high-stakes adventure that lands them in the green hills outside Dublin, Ireland. Here they discover an ancient order with a dark purpose – to perform an occult ritual that will raise the Specter Queen, the Celtic goddess of vengeance and death, to bring about a war unlike any the world has ever seen. To stop them, Sam must solve a deviously complex cipher – one that will lead her on a treasure hunt to discover the ancient relic at the heart of the ritual: a bowl carved from the tree of life. Will she find the bowl and stop the curse of the Specter Queen, or will the ancient order bring about the end of the world?
Indiana Jones gets a refresh with this female-driven mystery adventure, set in the 1920s, full of ciphers, ancient relics, and heart-stopping action – the first in a brand-new series!
Purchase Curse of the Specter Queen at Amazon
Purchase Curse of the Specter Queen at IndieBound
View Curse of the Specter Queen on Goodreads
* * * *
Don't Hate the Player
by Alexis Nedd
Hardcover
Bloomsbury YA
Released 6/1/2021
From an exciting new voice comes a funny and heartfelt YA romance set in the world of competitive gaming, perfect for fans of Opposite of Always and Slay.
Emilia Romero is living a double life. By day, she's a field hockey star with a flawless report card. But by night, she's kicking virtual ass as the only female member of a highly competitive eSports team. Emilia has mastered the art of keeping her two worlds thriving, which hinges on them staying completely separate. That's in part to keep her real-life persona, but also for her own safety, since girl gamers are often threatened and harassed.
When a major eSports tournament comes to her city, Emilia is determined to prove herself to her team and the male-dominated gaming community. But her perfectly balanced life is thrown for a loop when a member of a rival team recognizes her . . .
Jake Hooper has had a crush on Emilia since he was ten years old. When his underdog eSports team makes it into the tournament, he's floored to discover she's been leading a double life. The fates bring Jake and Emilia together as they work to keep her secret, even as the pressures of the tournament and their non-gaming world threaten to pull everything apart.
Purchase Don't Hate the Player at Amazon
Purchase Don't Hate the Player at IndieBound
View Don't Hate the Player on Goodreads
* * * *
Gamora and Nebula: Sisters in Arms
by Mackenzi Lee
Hardcover
Marvel Press
Released 6/1/2021
Gamora arrives on Torndune―a once-lush planet that has been strip-mined for the power source beneath its surface―with a mission: collect the heart of the planet.
She doesn't know who sent her, why they want it, or even what the heart of a planet looks like. But as the right hand and daughter of Thanos, and one of the galaxy's most legendary warriors, her job is not to ask questions. Her job is to do what she's told, no matter the cost.
What she doesn't know is that her sister Nebula is in hot pursuit. Nebula has followed Gamora to Torndune in hopes of claiming the planet's heart first and shaming her sister as vengeance for the part she played in Nebula losing her arm. While Gamora falls in with a group of miners attempting to overthrow the tyrannical mining corporation that controls their lives, Nebula allies herself with the Universal Church of Truth, whose missionaries wait on every street corner to recruit more followers and tithes for the Matriarch. Both sisters hope their alliance will give them access to one of the massive diggers capable of drilling to the center of the planet.
But the closer they get to the heart of the planet―and to each other―the closer they get to uncovering the truth of what brought them there and the role they may unknowingly be playing in a twisted competition with galactic consequences. A competition they can never win . . . unless they learn to trust each other.
And trust is the biggest lie in the galaxy.
Purchase Gamora and Nebula: Sisters in Arms at Amazon
Purchase Gamora and Nebula: Sisters in Arms at IndieBound
View Gamora and Nebula: Sisters in Arms on Goodreads
* * * *
Grace and Glory
by Jennifer L Armentrout
Hardcover
HarperCollins
Released 6/1/2021
Trinity Marrow has lost the battle and her beloved Protector. Even with both demons and Wardens on her side, Trin may not win the war against the Harbinger.
Bringing Lucifer back to the world to fight the Harbinger is probably a really, really bad idea, but they're out of options—and the world's ultimate fallen angel is the only being powerful enough to impact the outcome.
As Trin and Zayne form a new and more dangerous bond and Lucifer unleashes Hell on earth, the apocalypse looms and the world teeters on the end of forever. Win or lose, one thing is certain—nothing will ever be the same.
Purchase Grace and Glory at Amazon
Purchase Grace and Glory at IndieBound
View Grace and Glory on Goodreads
* * * *
Instructions for Dancing
by Nicola Yoon
Hardcover
Delacorte Press
Released 6/1/2021
Evie Thomas doesn't believe in love anymore. Especially after the strangest thing occurs one otherwise ordinary afternoon: She witnesses a couple kiss and is overcome with a vision of how their romance began . . . and how it will end. After all, even the greatest love stories end with a broken heart, eventually.
As Evie tries to understand why this is happening, she finds herself at La Brea Dance Studio, learning to waltz, fox-trot, and tango with a boy named X. X is everything that Evie is not: adventurous, passionate, daring. His philosophy is to say yes to everything–including entering a ballroom dance competition with a girl he's only just met.
Falling for X is definitely not what Evie had in mind. If her visions of heartbreak have taught her anything, it's that no one escapes love unscathed. But as she and X dance around and toward each other, Evie is forced to question all she thought she knew about life and love. In the end, is love worth the risk?
Purchase Instructions for Dancing at Amazon
Purchase Instructions for Dancing at IndieBound
View Instructions for Dancing on Goodreads
* * * *
Jay's Gay Agenda
by Jason June
Hardcover
HarperTeen
Released 6/1/2021
From debut novelist Jason June comes a moving and hilarious sex-positive teen rom-com about the complexities of first loves, first hookups, and first heartbreaks—and how to stay true to yourself while embracing what you never saw coming, that's perfect for fans of Sandhya Menon and Becky Albertalli.
There's one thing Jay Collier knows for sure—he's a statistical anomaly as the only out gay kid in his small rural Washington town. While all his friends can't stop talking about their heterosexual hookups and relationships, Jay can only dream of his own firsts, compiling a romance to-do list of all the things he hopes to one day experience—his Gay Agenda.
Then, against all odds, Jay's family moves to Seattle and he starts his senior year at a new high school with a thriving LGBTQIA+ community. For the first time ever, Jay feels like he's found where he truly belongs. But as Jay begins crossing items off his list, he'll soon be torn between his heart and his hormones, his old friends and his new ones . . . because after all, life and love don't always go according to plan.
Purchase Jay's Gay Agenda at Amazon
Purchase Jay's Gay Agenda at IndieBound
View Jay's Gay Agenda on Goodreads
* * * *
Skate for Your Life
by Leo Baker
Paperback
Penguin Workshop
Released 6/1/2021
In this moving, personal story, professional skateboarder Leo Baker shares their journey within the sport and the importance of authenticity and allyship as a non-binary athlete.
Pocket Change Collective is a series of small books with big ideas from today's leading activists and artists.
"Your authenticity is your superpower." That's the motto that professional skateboarder Leo Baker lives by and champions. But like any hero's journey, learning about their power didn't come easy. In this installment of the Pocket Change Collective, Baker takes the reader on a complicated, powerful journey through the world of skate and competitive sport as a non-binary athlete.
Purchase Skate for Your Life at Amazon
Purchase Skate for Your Life at IndieBound
View Skate for Your Life on Goodreads
* * * *
Strange Creatures
by Phoebe North
Hardcover
Balzer + Bray
Released 6/1/2021
From acclaimed author Phoebe North comes a riveting, unexpected, and beautiful contemporary novel about a girl whose brother mysteriously disappears, the family and friends he leaves behind, and the stories—real and imagined—that they tell themselves to fill the empty space.
From the moment that Annie was born, she and her older brother, Jamie, were inseparable. Alike in almost every way, they promised to always take care of each other while facing the challenges of growing up different in suburban America. And when life became too much for them, they created their own space in the woods behind their house: a fantasy world, called Gumlea, where no one else could find them.
And it was enough, for a while. But then came middle school, when Jamie grew dark and distant. He found new friends, a girlfriend, and a life away from Annie and Gumlea. Soon it was as if she hardly knew the brother who was her other half.
And then, one day, he disappears.
Annie, her family, and the entire community are devastated. And as the days turn into months turn into years, everyone begins to accept that Jamie is gone for good. Everyone, that is, except Annie, who believes that Jamie, somehow, has entered Gumlea, and who believes that she's the only one who can bring him back.
But as Annie searches for answers and finds a new relationship with a girl she did not expect, she makes startling discoveries about her brother's disappearance—and has to decide how much of herself she's willing to give up in order to keep hope alive.
Purchase Strange Creatures at Amazon
Purchase Strange Creatures at IndieBound
View Strange Creatures on Goodreads
* * * *
Sunny Song Will Never Be Famous
by Suzanne Park
Paperback
Sourcebooks Fire
Released 6/1/2021
A social media influencer is shipped off to a digital detox summer camp in this funny coming-of-age story, perfect for fans of Jenny Han's The Summer I Turned Pretty and Love and Gelato.
Sunny Song's Big Summer Goals:
1) Make Rafael Kim my boyfriend (finally!)
2) Hit 100K followers (almost there…)
3) Have the best last summer of high school ever
Not on Sunny's list: accidentally filming a PG-13 cooking video that goes viral (#browniegate). Extremely not on her list: being shipped off to a digital detox farm camp in Iowa (IOWA??) for a whole month. She's traded in her WiFi connection for a butter churn, and if she wants any shot at growing her social media platform this summer, she'll need to find a way back online.
But between some unexpected friendships and an alarmingly cute farm boy, Sunny might be surprised by the connections she makes when she's forced to disconnect.
Purchase Sunny Song Will Never Be Famous at Amazon
Purchase Sunny Song Will Never Be Famous at IndieBound
View Sunny Song Will Never Be Famous on Goodreads
* * * *
The (Un)Popular Vote
by Jasper Sanchez
Hardcover
Katherine Tegen Books
Released 6/1/2021
Red, White, & Royal Blue meets The West Wing in Jasper Sanchez's electric and insightful #ownvoices YA debut, chronicling a transmasculine student's foray into a no-holds-barred student body president election against the wishes of his politician father.
Optics can make or break an election. Everything Mark knows about politics, he learned from his father, the Congressman who still pretends he has a daughter and not a son.
Mark has promised to keep his past hidden and pretend to be the cis guy everyone assumes he is. But when he sees a manipulatively charming candidate for student body president inflame dangerous rhetoric, Mark risks his low profile to become a political challenger.
The problem? No one really knows Mark. He didn't grow up in this town, and his few friends are all nerds. Still, thanks to Scandal and The West Wing, they know where to start: from campaign stops to voter polling to a fashion makeover.
Soon Mark feels emboldened to engage with voters—and even start a new romance. But with an investigative journalist digging into his past, a father trying to silence him, and the bully frontrunner standing in his way, Mark will have to decide which matters most: perception or truth, when both are just as dangerous.
Purchase The (Un)Popular Vote at Amazon
Purchase The (Un)Popular Vote at IndieBound
View The (Un)Popular Vote on Goodreads
* * * *
The Darkness Outside Us
by Eliot Schrefer
Hardcover
Katherine Tegen Books
Released 6/1/2021
They Both Die at the End meets The Loneliest Girl in the Universe in this mind-bending sci-fi mystery and tender love story about two boys aboard a spaceship sent on a rescue mission, from two-time National Book Award finalist Eliot Schrefer.
Two boys, alone in space. Sworn enemies sent on the same rescue mission.
Ambrose wakes up on the Coordinated Endeavor with no memory of a launch. There's more that doesn't add up: evidence indicates strangers have been on board, the ship's operating system is voiced by his mother, and his handsome, brooding shipmate has barricaded himself away. But nothing will stop Ambrose from making his mission succeed—not when he's rescuing his own sister.
In order to survive the ship's secrets, Ambrose and Kodiak will need to work together and learn to trust each other . . . especially once they discover what they are truly up against. Love might be the only way to survive.
Purchase The Darkness Outside Us at Amazon
Purchase The Darkness Outside Us at IndieBound
View The Darkness Outside Us on Goodreads
* * * *
The Nature of Witches
by Rachel Griffin
Hardcover
Sourcebooks Fire
Released 6/1/2021
From a stunning new voice in YA comes the fierce, romantic story about a world on the brink of destruction, the one witch who holds the power to save it, and the choice that could cost her everything she loves.
For centuries, witches have maintained the climate, their power from the sun peaking in the season of their birth. But now their control is faltering as the atmosphere becomes more erratic. All hope lies with Clara, an Everwitch whose rare magic is tied to every season.
In Autumn, Clara wants nothing to do with her power. It's wild and volatile, and the price of her magic—losing the ones she loves—is too high, despite the need to control the increasingly dangerous weather.
In Winter, the world is on the precipice of disaster. Fires burn, storms rage, and Clara accepts that she's the only one who can make a difference.
In Spring, she falls for Sang, the witch training her. As her magic grows, so do her feelings, until she's terrified Sang will be the next one she loses.
In Summer, Clara must choose between her power and her happiness, her duty and the people she loves…before she loses Sang, her magic, and thrusts the world into chaos.
Purchase The Nature of Witches at Amazon
Purchase The Nature of Witches at IndieBound
View The Nature of Witches on Goodreads
* * * *
The Passing Playbook
by Isaac Fitzsimons
Hardcover
Dial Books
Released 6/1/2021
Love, Simon meets Bend It Like Beckham in this feel-good contemporary romance about a trans athlete who must decide between fighting for his right to play and staying stealth.
Fifteen-year-old Spencer Harris is a proud nerd, an awesome big brother, and a David Beckham in training. He's also transgender. After transitioning at his old school leads to a year of isolation and bullying, Spencer gets a fresh start at Oakley, the most liberal private school in Ohio.
At Oakley, Spencer seems to have it all: more accepting classmates, a decent shot at a starting position on the boys' soccer team, great new friends, and maybe even something more than friendship with one of his teammates. The problem is, no one at Oakley knows Spencer is trans—he's passing.
But when a discriminatory law forces Spencer's coach to bench him, Spencer has to make a choice: cheer his team on from the sidelines or publicly fight for his right to play, even though it would mean coming out to everyone—including the guy he's falling for.
Purchase The Passing Playbook at Amazon
Purchase The Passing Playbook at IndieBound
View The Passing Playbook on Goodreads
* * * *
The Witch King
by H.E. Edgmon
Hardcover
HarperCollins
Released 6/1/2021
Wyatt would give anything to forget where he came from—but a kingdom demands its king.
In Asalin, fae rule and witches like Wyatt Croft…don't. Wyatt's betrothal to his best friend, fae prince Emyr North, was supposed to change that. But when Wyatt lost control of his magic one devastating night, he fled to the human world.
Now a coldly distant Emyr has hunted him down. Despite transgender Wyatt's newfound identity and troubling past, Emyr has no intention of dissolving their engagement. In fact, he claims they must marry now or risk losing the throne. Jaded, Wyatt strikes a deal with the enemy, hoping to escape Asalin forever. But as he gets to know Emyr, Wyatt realizes the boy he once loved may still exist. And as the witches face worsening conditions, he must decide once and for all what's more important—his people or his freedom.
Purchase The Witch King at Amazon
Purchase The Witch King at IndieBound
View The Witch King on Goodreads
* * * *
Trouble Girls
by Julia Lynn Rubin
Hardcover
Wednesday Books
Released 6/1/2021
Love on the dark side of freedom
When Trixie picks up her best friend Lux for their weekend getaway, they're looking to forget the despair of being trapped in their dead-end rustbelt town. The girls are packing light: a supply of Diet Coke and an '89 Canon to help Lux frame the world in a sunnier light; half a pack of cigarettes that Trixie doesn't really smoke, and a knife she's hanging on to for a friend that she's never used before.
But a single night of violence derails their trip, and the girls go from ordinary high schoolers to wanted fugitives. Trying to stay ahead of the cops and a hellscape of media attention, Trixie and Lux grapple with an unforgiving landscape, rapidly diminishing supplies, and disastrous decisions at every turn. As they are transformed by the media into the face of a #MeToo movement they didn't ask to lead, Trixie and Lux realize that they can only rely on each other, and that the love they find together is the one thing that truly makes them free.
Purchase Trouble Girls at Amazon
Purchase Trouble Girls at IndieBound
View Trouble Girls on Goodreads
* * * *
We Are Inevitable
by Gayle Forman
Hardcover
Viking Books for Young Readers
Released 6/1/2021
Even in the face of extinction, life–and love–finds a way.
Aaron Stein used to think books were miracles. But not anymore. Even though he spends his days working in his family's secondhand bookstore, the only book Aaron can bear to read is one about the demise of the dinosaurs. It's a predicament he understands all too well, now that his brother and mom are gone and his friends have deserted him, leaving Aaron and his shambolic father alone in a moldering bookstore in a crusty mountain town where no one seems to read anymore.
So when Aaron sees the opportunity to sell the store, he jumps at it, thinking this is the only way out. But he doesn't account for Chad, a "best life" bro with a wheelchair and way too much optimism, or the town's out-of-work lumberjacks taking on the failing shop as their pet project. And he certainly doesn't anticipate meeting Hannah, a beautiful, brave musician who might possibly be the kind of inevitable he's been waiting for.
All of them will help Aaron to come to terms with what he's lost, what he's found, who he is, and who he wants to be, and show him that destruction doesn't inevitably lead to extinction; sometimes it leads to the creation of something entirely new.
Purchase We Are Inevitable at Amazon
Purchase We Are Inevitable at IndieBound
View We Are Inevitable on Goodreads